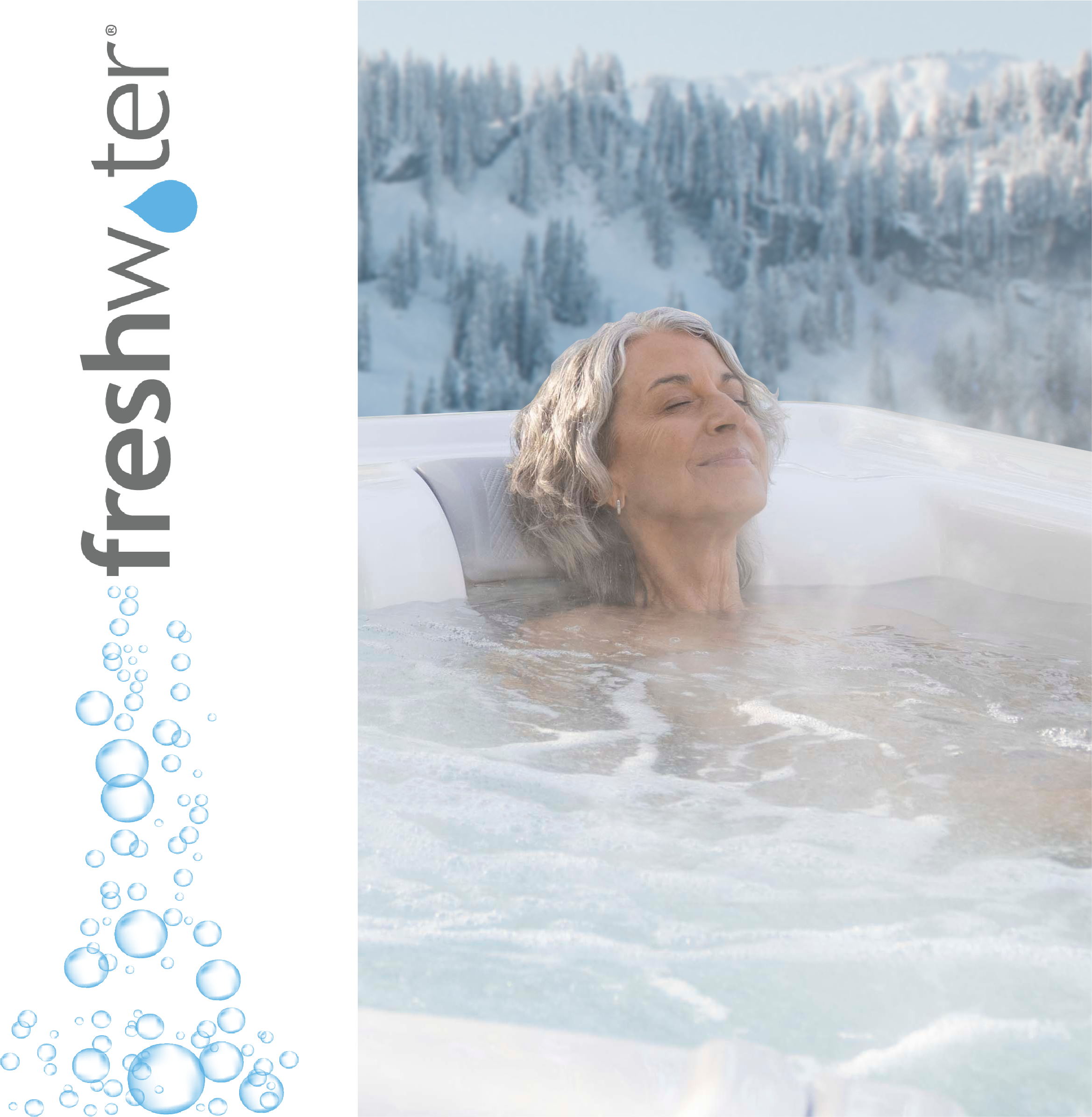 The Simpler, Cleaner, Fresher Way to Hot Tub
Available on all Highlife® Collection and Limelight® Collection spas, this salt water system is the simple way to keep spa water clean, clear and sanitized for up to a full year.* With just a little salt in your spa water, the system generates chlorine automatically so you'll spend less time measuring and adding chemicals. This unique system helps you spend less time maintaining your spa and more time enjoying it.
The Montana Hot Springs Spa Difference
Introducing the FreshWater™ Salt System
A Revolution in Hot Tub Water Care
Unique, patent-pending technology makes the FreshWater Salt System a revolution in hot tub water care. The titanium cartridge creates chlorine from salt to sanitize the spa water. Use the control panel to set the system level needed to clean the water based on your usage needs.
The control panel prompts you to check the water with a test strip every 10 days and adjust the system if needed. It also indicates when the system needs attention and instructs you on what steps to take. It's that easy. The disposable cartridge never needs any maintenance and lasts up to four months. With only three cartridge changes, the water stays clean and sanitized for up to a full year, giving you our best spa water possible.*
With fewer additives and less chemicals, the spa water stays cleaner longer. Spa water lasts up to 12 months before it needs a drain and refill.* The FreshWater Salt System saves on maintenance time and conserves water.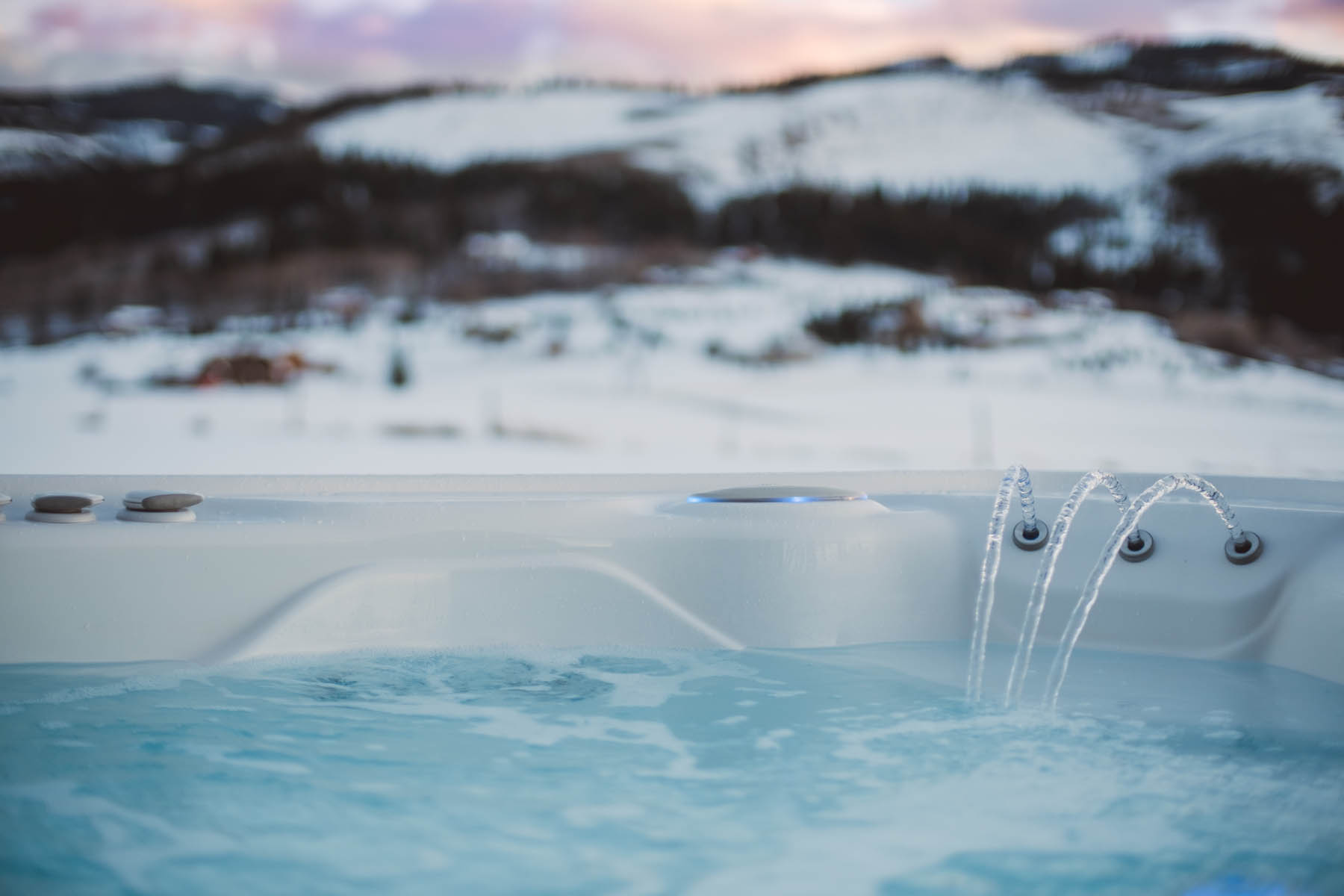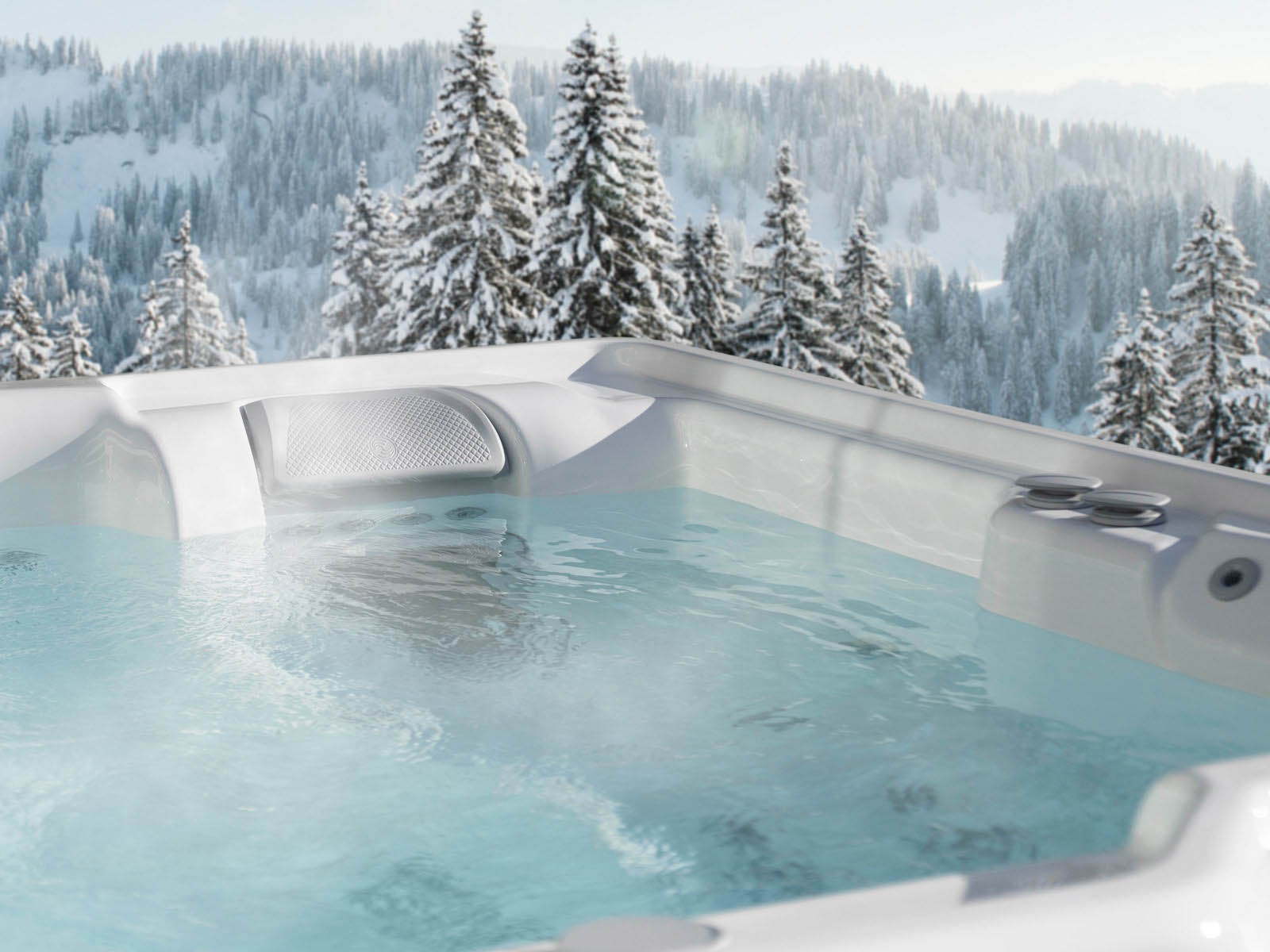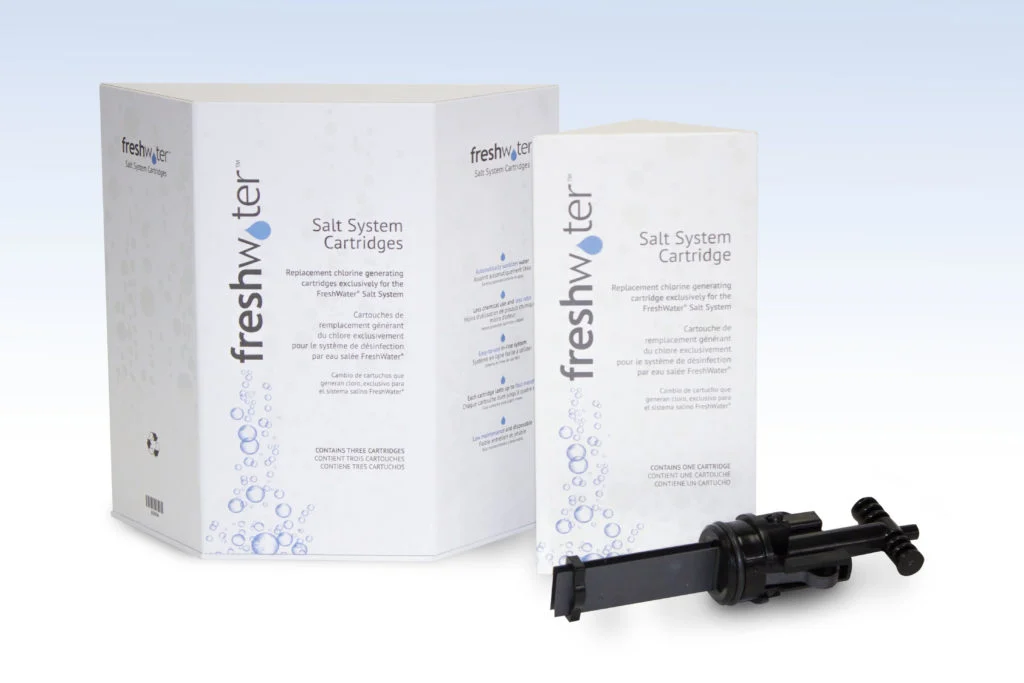 Fewer Additives and Less Chemicals
The disposable titanium cartridge, hidden away in the spa, is easy to replace in just a few seconds, without tools.
One 3-pack of FreshWater® Salt System titanium cartridges gives you a year's worth of water care.*
*Many factors affect the life of spa water, such as bather load and water chemistry. When these factors are accounted for and the spa is properly maintained, the FreshWater® Salt System will keep water clean and clear for a full year.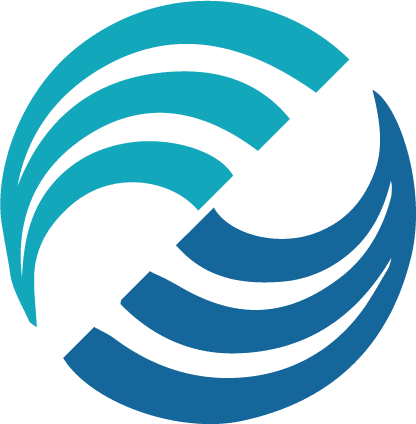 Wellness Benefits of Salt Water
The FreshWater® Salt System will complement your healthy lifestyle and bring mineralized hot tub therapy into your daily wellness routine, because salt water provides these benefits:
Silky smooth to the touch and easy on your eyes, salt water feels soothing and lacks a strong chlorine odor.
More dense than typical hot tub water, salt water increases buoyancy, which can better help relieve pressure on joints and may help temporarily reduce the pain that can accompany arthritis. When combined with the power of massaging jets, salt water can help you better relax to reduce muscle tightness and improve the quality of life.
Improved emotional wellness
The smooth feel and clean smell of a salt water spa will invite you to soak more often, providing you with the relaxation you need before or after a busy day and the opportunity to reap the cumulative benefits of warm water immersion. Enjoying more spa time can help reduce anxiety and the discomfort that stress can cause, and even help you sleep better.
Do you need specific jets for pain relief?
Do you want to relieve stress and soothe aches and pains in specific parts of your body through hot tub hydrotherapy? Choose a spa with jets placed in just the right spots to provide the relief you need—precisely where you need it. Pay attention to the pump horsepower, as well. The jets depend on a strong motor to deliver a good massage.